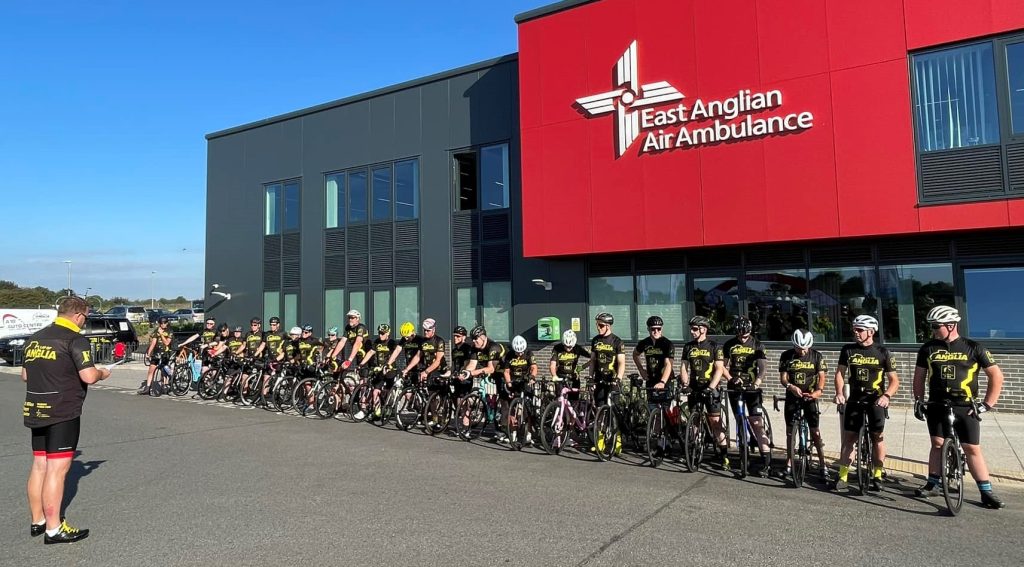 The 'Lap of Anglia' cycling event is not for the faint hearted! It is a 4-day immersive cycling experience, travelling 435 miles and a climb of 14,167ft, which is half the height of Everest! All money raised will go to the East Anglian Air Ambulance which is based just a few hundred metres from the Credo Office.
The event itself started in 2013, and John took over the organisation in 2014, and to date they will have raised an amazing £230,000 for the charity.
John and 23 other determined riders left early on Wednesday 16th August to start their epic journey.  Credo staff rode with John for the first 31 miles to Great Yarmouth.
The route
Day 1 Norwich to the coast and back into Ipswich
Day 2 Ipswich across the country to Luton
Day 3 Luton up to Kings Lynn
Day 4 Kings Lynn to Norwich.
They experienced incredibly hot days, a morning of rain and an afternoon of headwind in the fens.  The final day did not give them any respite, as they had to push through extensive mud and soaring temperatures.
We asked John a few questions:
What has made you carry on with this every year, what is the motivation?
"The motivation is to help keep the Air Ambulance in the sky saving lives. The charity is self-funded and for such a lifesaving service this is a huge task to achieve the amount of money each year they need. 2023 is £17 million pounds. Each flight is £3750!
During our event from 8am Wednesday till 6pm Saturday the charity spent over £70,000 in life saving support.
Seeing the Air Ambulance in the sky knowing our event plays such a big part in the upkeep is superb".
What did you experience on the ride?
I personally struggled this year, lack of training while concentrating on the planning made it the hardest ride for me. Horrendous cramp in both quads at the same time leading to every profanity being shouted as I couldn't move on a hill.
We had heroics on downhills with speeds up to 48mph, we had punctures galore and we had more aching muscles than any of us wish to remember. But having 4 days riding through so many beautiful counties in the East of England is wonderful".
And finally, what did you feel like when you crossed that finish line?
I always well up as I cross the line, the feeling of the ride accomplishment is huge and the knowledge of putting on an event that people have enjoyed and the money we have raised really hits me. Those minutes of euphoria are soon forgotten when the pain from my legs and rear kick in again….
We are on route to raise £17,000 in 2023 for the East Anglian Air Ambulance. Fundraising is still open, please sponsor us. https://www.justgiving.com/campaign/LOA2023
Credo added to the donations as Lewis Buckley from Credo presented John with a cheque for £100
2024 is set to be a huge year and John is already planning the event. If you are interested please register your interest here https://www.lapofanglia.co.uk/2024-sign-up