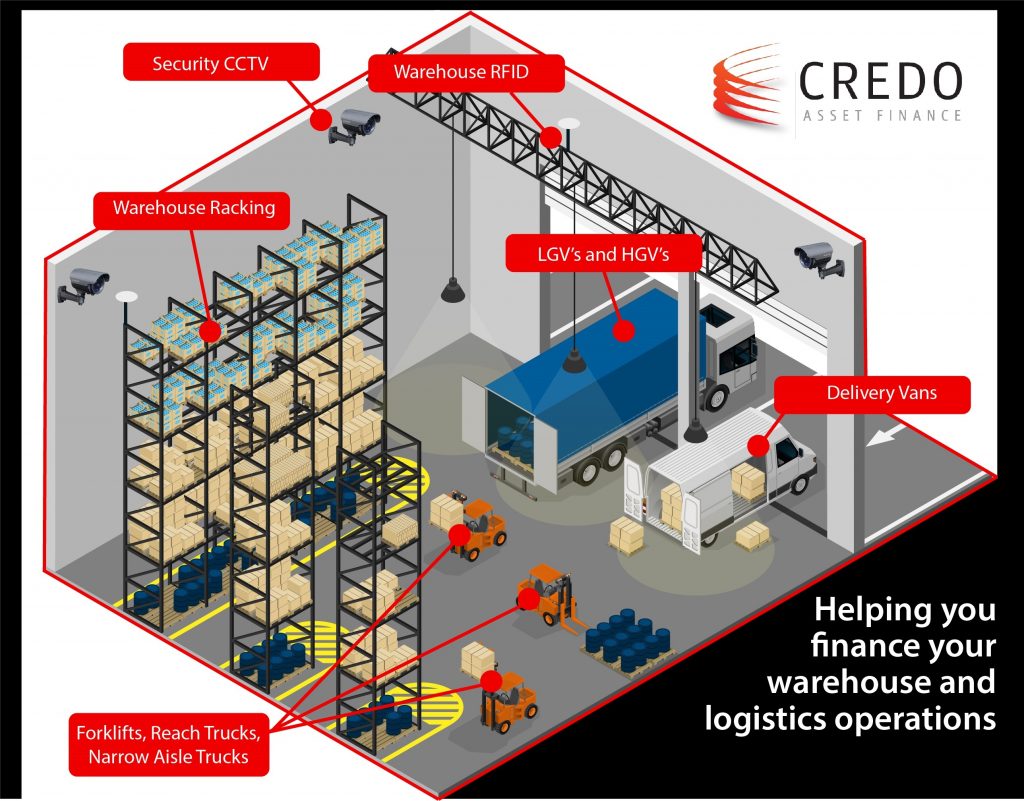 Developing your business, to keep up to date with the latest technology and thinking, can be costly in terms of both time and financial outlay.
Here, at Credo Asset Finance, we can help you get the best deal with our policy of responsible lending. Basically, we take the hassle out of the buying process so you can get on with the important job of running your business and making sure it thrives.
We feel it's important to give you sound advice, from our hand-picked expert team, about the finance options so you can buy or lease the right type of equipment and transportation you need to make sure your business can grow successfully to meet the latest challenges.
A recent example of how we have helped a warehouse and distribution business refurbish its warehouse and also invest in new vehicles to meet the requirements of a new contract.
The whole project would've taken 3 years for the business to fund from cash reserves. Instead the firm was able to spread the initial investment over a 12 month period, and finance over 3 to 5 years.
Our haulage and HGV specialists can offer you alternative ways to buy new equipment without putting pressure on your business.
Here are the funding solutions we came up with to help that warehouse and distribution business.
HGV/LCV –These vehicles, enabling the business to upgrade from a Euro 5 to a Euro 6 fleet crucial for the new contract in and around the London low-emissions zone , were funded on hire purchase (HP).
The large lorries brought the stock in the warehouse while the team of couriers distributed the goods to clients in Luton vans.
Forklifts –The three forklifts that the business uses in the warehouse were replaced over nine months. All were financed on a competitive operating lease agreement with the support of the supplier.
Warehouse racking – With an impressive lifespan for this type of equipment, cashflow management was crucial and a HP contract over 60 months was put in place.
Warehouse electronic systems – The client and its supplier agreed that the business would need to upgrade and improve its radio frequency identification (RFID) and closed-circuit television (CCTV) security systems every three years.
A fixed-term lease deal was written, allowing the client to simply hand back the now depreciated equipment, at the end of the three-year term, and replace it with a new agreement.
Fran Brown, Credo's Marketing Manager, said: "Credo can help fund most assets. Even though financing cars and vans are a big part of our business, we are specialists in our field and can project manage a finance plan to include equipment, vehicles and other assets to enable businesses to expand at the rate they deserve "
Credo promotes bespoke finance solutions for the farming and construction industries as well as companies' offices which might involve investing in new technology such as solar panels or electric vehicle charging points when upgrading their transport fleets.
"We are your independent finance broker so please feel free to talk to us about your finance requirements," she said. "We can sort the finance and take all the hassle away by saving you time and money".
"We are here to help businesses grow and we will know how to find what you are looking for."
To find out more, call one of our specialist advisers on 01603 381955